Welcome to Athens Open Tour
Explore the city from above, combining pleasure and education. The perfect choice for you and your family!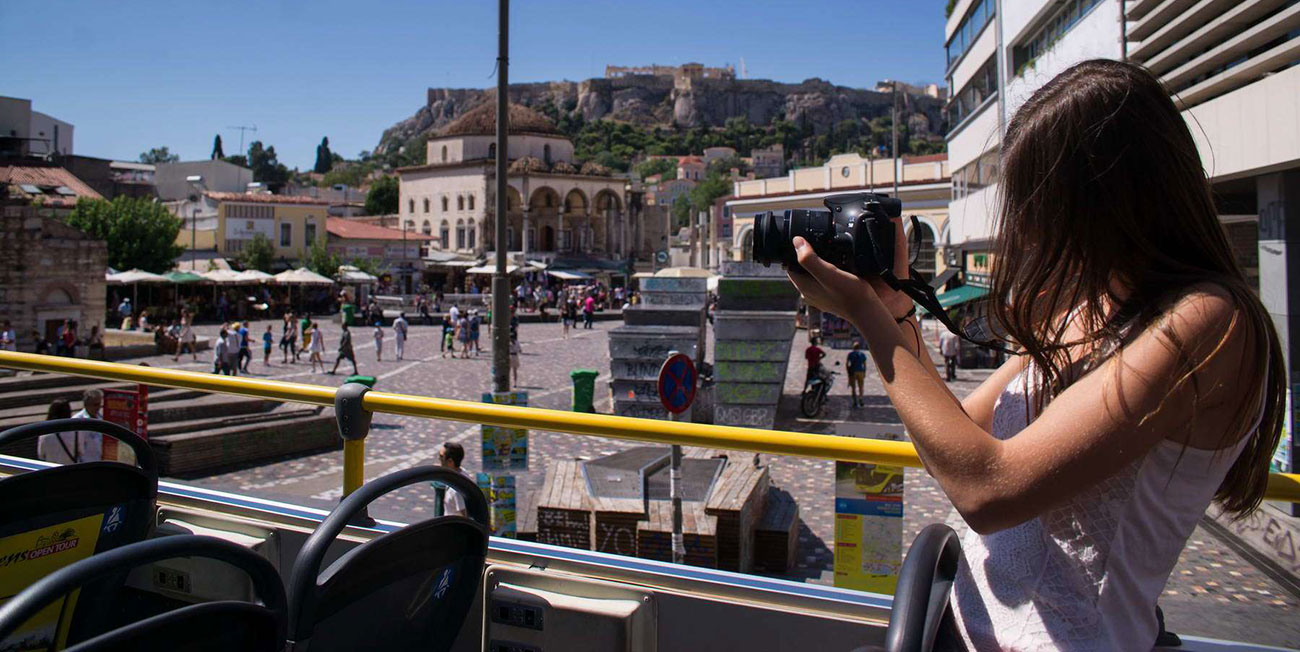 Discover Athens, Piraeus, Riviera & Beaches with Athens Open Tour, the first GREEK double-decker Get on Get off bus company!
Enjoy Athens, Piraeus, Riviera & Beaches on our yellow open top buses.  Get in touch with our civilization, history and architecture and learn all about the old and modern city of Athens and Piraeus in your own language with the commentary on board, available in 14 languages.
Athens Open Tour operates all year round. Our Athens, Piraeus, Riviera & Beaches tours run daily with a 30 minute frequency time schedule from 08.30 until 19.00 during the summer season April to November and from 09.00 until 17.45 during the winter season December to March. With our Athens Route Terminal located at Syntagma Square, our Piraeus Route starting point at the Interchange bus stop at the Acropolis, our tourist-friendly city tours ideally cover all the major sights and attractions.
Athens Open Tour gives you the opportunity to see the city from above combining pleasure and education and it is the perfect choice for you and your family!
Don't miss it!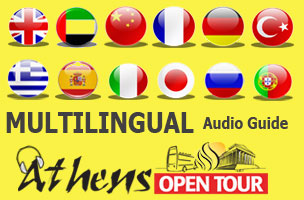 Buy your tickets online and discover Athens from a whole new perspective!
Happy Visitors
"Got this bus tour as part of a city pass deal, and found it very useful, I found the staff friendly, helpful and courteous, even stopping to pick us up when we got the location of a stop wrong, two days and three routes with the central hub being the Acropolis was perfect for us as we were in the city for three days. All the buses were clean and at 15 minute frequency more common than I have found in other cities."
"We've been to Athens before, but, this time really wanted to just take it all in and see as much as we could - but we were tired after a month of travelling! So, we booked tickets for Athens Open Tour and it was great! We covered a couple of the lines fully, and enjoyed the beautiful day and scenery with some shopping in between."
"Excellent service from the staff. 5 routes in Athens Piraeus and beach side of city. I recommend it. The buses were new."
"Spent our first day walking around Athens..result very tired. Booked bus tour (Athens and Piraeus lines) second day. Excellent. Would have done other two lines if we had booked first day."You can visit most of the famous places in Athens within the cost of one ticket per person per 24 hours. My son enjoyed a lot. It's a great experience that we definitely recommend to everyone."
"Spent our first day walking around Athens..result very tired. Booked bus tour (Athens and Piraeus lines) second day.Excellent. Would have done other two lines if we had booked first day."
"As it was my first ever visit to Athens, I decided that we should take a tour as it would be the most efficient method of visiting the most important sights in this glorious city. We were really pleased even though it was Easter Sunday , with most places closed for church services, the Athens Open Tour company were operating..."
"Excellent view from above!! Nice and kind personnel. Always answered our questions about Athens city. The kids were surprised and loved the tour!! We will definitely have a tour again!!!"